The Content Strategy Process – How to do it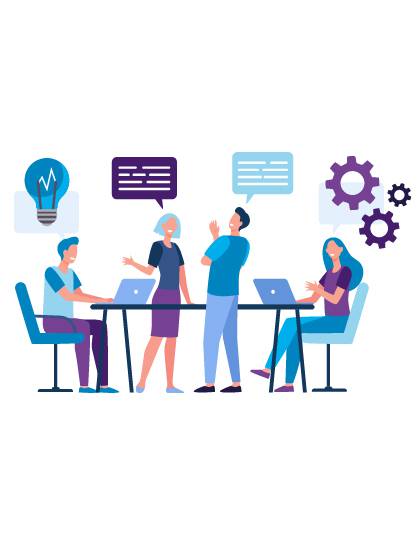 Digital Marketing
How to Build a Content Strategy in 2022
'Content' is the buzzword of marketing in the 21st century. As digital media consumption has gone up and up, the need for higher quality, more personalized content has also increased in accordance.
Whether you're a complete content marketing beginner, or a seasoned expert, having a detailed content strategy plan is essential in making sure it is executed properly, and brings good returns.
With 60% of marketers creating at least one piece of content every day, we thought it is extremely important to give some guidance on how to put a strategy together. In this blog post, we'll discuss exactly what a content strategy is, the Importance of having one, and give you our favorite method for planning out content.
What is a Content Strategy?
A content strategy is a plan for your content marketing that takes into account your business objectives, and how the use of content is going to help achieve them.
Your strategy should cover the planning, creation, delivery, and analysis of all your pieces of content, and make sure that they all lead back to your main business goals.
For example, if one of your business objectives is to increase overall brand awareness, then a lot of your content strategy would revolve around SEO performance and increasing the amount of organic traffic. If it is to increase lead generation, then perhaps you have a content plan for lots of lead magnets (otherwise known as gated content).
As you can see, a well devised content strategy helps to make sure every piece of content that you create has a purpose and ties back to your objectives. This makes measuring the success of your content marketing easy and increases the likelihood that your content will have positive results.
Why it's important to have a Content Strategy
Despite saying earlier how 60% of marketers create at least one piece of content per day, 63% of businesses don't have a documented content marketing strategy. In other words, most businesses are making content without understanding what goals it is achieving for their business, how it should speak to their target audience, how it should be promoted, etc.
Without a clear strategy, the success of your content marketing is down to chance. You could get lucky, and it could pay off, resulting in a huge increase in organic traffic. However, there's a big chance that your efforts will go to waste, and you will have no idea why.
And marketers know this, which is why 64% say that learning how to build a content strategy is one of their greatest educational needs. From this data, it's apparent that most marketers find content strategies confusing and intimidating to begin with.
However, by following the steps laid out in this blog post you will be able to build a content strategy that helps to hit your businesses objectives.
How to Build a Content Strategy
Here are 8 steps designed to help you go from complete novice to a content marketing king or queen.
1: Define Your Goals
As already mentioned, all content should be created with a specific objective in mind. Whether it is to increase brand awareness, drive conversions, generate leads, improve SEO performance, or anything else, having these goals clearly defined will help you massively when it comes to deciding what content you should be feeding your audience.
It all depends on where users are in your sales funnel. The content you'll give to users ready to convert for example will be different to the content used for attracting first time visitors.
For example, for users in the awareness stage (first time visitors), content such as eBooks, video guides, webinars, high ranking articles for relevant keywords, etc. could all be a great way to provide valuable information to a cold audience, and hopefully act as some form of lead generation.
As you get further into the funnel, you can then start to provide more sales driven content, such as case studies, demo videos, discount codes, consultations, free trials, customer reviews, etc.
To check out 15 creative lead magnet ideas that you can use for your business, click here.
2: Know Your Target Audience
To create successful content, you need to know who your target audience is. This will inform you as to what content they usually consume, what social media platforms they are most active on, where they go to find answers (Google, YouTube, etc.), and what other brands / sites they like to engage with.
To know your target audience, you should analyze your current customers to see their demographics. How old are they? Where do they live? What are their interests/hobbies? You can also look at competitors, market trends, etc.
After completing lots of research and collecting data, you can then create buyer personas which represent the overall demographics of your customer base. It is usual to have between 3-5 different personas for your brand which represent the different types of customers that your brand has.
Finally, you can use your Google Analytics dashboard to show you information such as where your customers are coming from (social channels, search engines, referral links, etc.), what content they engage with, as well as showing you the average age, location, device, etc. of each of your web visitors. This is super important to ensure you make content decisions based on concrete data.
3: Decide Which Content to Produce
Once you know your target audience and have decided what you want to achieve from your content, it's time to decide what content you need to produce.
There are loads of types of content to choose from, including the following.
1: Blog Posts
Arguably the biggest and most important type of content you should be producing is blog posts, especially for those companies in B2B. In fact, 90% of content marketers use blog posts to help them achieve their marketing goals.
Blog posts are pieces of written content hosted on a website, such as this one you are reading right now. They generally are used to share your expertise with your audience and provide valuable information that will help improve their life and address any issues/queries they may have. The beauty of blog posts is, that they help you achieve numerous Marketing goals at once: Transfer knowledge, convey a positive image and include a call-to-action that drives conversions.
If you want to improve your SEO, producing high quality, keyword optimized on-page content is vital. High quality long-form posts mean you help your audience solve their problems, meaning they are more engaged, spend more time on your site, and are less likely to bounce back to the results page. It also increases your chances of receiving backlinks from other high authority sites, all of which are important ranking factors.
To learn more about SEO, read our article on SEO friendly Blogs.
2: Infographics
According to the same study as mentioned above, infographics are used by 45% of all content marketers, beaten only by blog posts and emails.
Infographics are great to use and have seen an increase in consumption in recent years as people look for shorter formats to consume content.
They are a great way of condensing big pieces of information and data into visual graphics that are great either by themselves or used in conjunction with blog posts to help them become more digestible.
Infographics are also great to share on social media, board meetings, reports, etc. Any piece of content that seems intimidating to read / consume, you should see how you can add infographics.
3: Videos
With 61% of marketers seeing video as a "very important or extremely important" part of their marketing strategy, it is a super effective content marketing method which every business should be taking advantage of.
If you just look at the growth of platforms such as YouTube and TikTok, it's clear how popular video content has become. It's a fun and engaging way for users to consume content, whether short or long form. The best part is that video content can work for any brand, in any industry.
SaaS companies can use long form educational videos on YouTube, whilst a contemporary clothing e-commerce store can use short TikTok videos as a great way to build their brand. Whatever your area of expertise is, use video to help you educate and entertain your audience.
4: Podcasts
Podcasts are another content form that have become the marketing rage in the last few years. Whether people are interested in business, finance, sports or DIY, there is a podcast available for them to listen to.
In fact, nearly 6 in 10 consumers in the United States listen to podcasts, with the percentage saying that they had ever listened to a podcast more than doubling over the last decade.
As with video, podcasts can be used for any brand. A meditation app can use them for discussions about health and wellness, and an NGO can use it to talk about current human rights issues across the globe.
The chances are there are people out there interested in what your brand has to offer, and podcasts help to give them a unique insight into the people, beliefs and culture behind your business.
5: eBooks
Typically used as gated content for many B2B businesses, eBooks are a great way to pack lots of valuable information into a downloadable document. They can range anywhere from a few pages to 50+ and can be used across most industries to help answer questions or deal with pain points that the users face.
Launching a Whitepaper version of your typical concept or work can help a great deal in attracting and converting new clients.
If you work for a finance company, an eBook on investing, taxes or the economy could be great pieces of content that your audience will be interested in consuming.
6: Social Media
Social media platforms such as Facebook and Instagram have been an important part of businesses marketing strategies for many years. Whilst organic growth has slowed down on the more popular platforms, it is still relatively easy to grow on platforms such as LinkedIn and TikTok, without having to put any money behind ads. Find out what Social Platform suits your business here.
And of course, it is still possible to grow on the more established social channels without a huge ad budget. By making visually appealing content, that is entertaining, educational, and/or inspiring, you can show visitors what your brand is all about.
Obviously, there are more content types than these 6 that are listed, but these are the most popular ones which should be applicable to everybody reading this blog post regardless of industry.
4: Brainstorm Content Ideas
After deciding what content formats and channels are best for your business (as a side note, you can decide that all 6 of the content types listed above are useful for your business, plus others that aren't listed. You don't have to, and shouldn't, confine yourself to one format), next you need to brainstorm the content you will create under each format.
To get a brainstorm underway, spend 5 minutes writing down questions your target audience may have about your products, how your products make your users life easier, and what some of the goals of your company are. The key here is to only spend a strict, short amount of time (whether that be 5 or 10 minutes) as this allows you to get all of the key, most important points down. Also, if you have colleagues, make this a group session so you can get ideas from all different people in your company.
For example, let's say you're a brand asset management software. After this exercise, you could have written down stuff such as "allows users to keep all their brand assets in one place", "easy to share with clients, agencies, and partners", "lots of questions around how brand guidelines should be displayed", "what are the key assets needed for a brand guidelines".
Once you have these ideas down on paper, it's time to move on to content planning.
5: Content Planning (Using Topic Clusters)
Our favorite method of planning out content is by using the topic cluster method. This is an SEO method which focuses on topics rather than keywords, in an effort to improve site structure and make it easier for Google to understand what your website is about.
Yes, keyword research is important, as we explained here, and you should be including them in your content, but the topic cluster method is amazing at creating lots of related, informative content that helps to spread SEO performance across your site.
The topic cluster method works by starting out with one, super broad topic. In our example of a brand asset management software, this could be "Everything you need to know about brand guidelines". This could easily be a long, 3,000+ word blog post.
Then, you use all of the subtopics within this article to create multiple blog posts from. For example, from our "everything you need to know about brand guidelines" article, we could then create articles on "best software to design brand guidelines", "why do you need brand guidelines", "brand guidelines best practices", "10 great examples of brand guidelines", etc. The idea is you then put internal links from all of these shorter blogs, back to the main, longer guide, and vice versa. This results in domain authority (often unofficially referred to as 'SEO juice') to be passed across pages, and ultimately improve the performance of each of your blog posts.
The best part of the topic cluster method is that you will then have hundreds of different content ideas. These ideas can all then be repurposed from blog posts into videos, podcast episodes, infographics, etc.
Those can in turn be counter-checked against your keyword analysis and strategy. By merging those two approaches, you'll produce highly engaging and customer-centric content that also boosts your SEO by having the right keywords mixed in.
6: Use a good Content Management System
A content management system (CMS) is a software that helps with the creation, collaboration, management and editing of content.
The problem is, most CMS platforms such as WordPress have a lot of extra code which slows download times, and results in a pretty bad user experience. With 53% of mobile visitors leaving a web page that takes longer than 3 seconds to load, we didn't want to miss out on all of those potential leads.
Because we know how important it is to have an amazing user experience, fast load times, and super responsive interactions, we invested heavily into creating our own highly-performant blog platform, Zweinstein.io.
As a result, we now have a team of expert tech developers that can help build custom websites and blog platforms for your specific needs.
7: Publish and Promote your Content
So, congratulations, you've now spent time and effort into brainstorming, planning, and creating amazing pieces of content. However, your job isn't quite yet finished. If you just hit publish, yeah you might get some results from it, but nowhere near the levels you could by properly promoting it.
There are multiple ways you can promote your content. For blog posts, you could put messages out about it on your social media and to your email list, encouraging your existing audience to read. You could even put some budget behind and advertise them through search results and on social media.
For social media content, you could put some budget behind the posts to boost them to your target audience. For eBooks, you could set up pop-ups and embedded forms throughout related pages on your site to increase lead generation. You could then also run the eBook as a lead generation ad on social media as a way to gather people's data.
But one of the most effective ways to promote your content is simply by sending out an email broadcast to your database. In fact, marketing blogger Derek Halpern ran a study where he promoted his latest blog post to the exact same number of people on both Twitter and Email. On Twitter, only 300 people clicked through to the article, whereas on email, 4,200 people did, meaning email promotion was 14x more effective.
8: Track your Contents Performance
Finally, it's important to track how your content has performed. How well (or bad) your content performs should affect what types of content you create in the future.
For example, if you find content around a certain topic performs better, then you should make as much content around that topic as possible. If you find blog posts work really well for your business, but social media not as much, then put more focus into the output of quality blog posts.
So, we all know that seeing the data from our content will give us valuable insights to plan our future content strategy, but the question is what metrics should you be tracking?
1: Traffic
The simplest (and arguably most important) metric to measure is traffic. After all, it doesn't matter how amazing your content is if no one is viewing it.
In Google Analytics, you can see metrics such as the total number of users that have visited your web page, the average time a page has been viewed, the most popular channels visitors have come from, etc.
To learn more about how to use Google Analytics, read our in-depth guide here.
2: Engagement
Whilst seeing how many people have viewed your content is good, it's also just as important to measure how many people have engaged with this content.
For social media content, this can be measured by likes, comments, saves and shares, for blog content this can be measured by average time on site, number of clicks or average number of viewed pages per session. If you run a web shop, the total number of clicks onto your shop page, possibly linking content and commerce, might be an important engagement figure too.
If some pieces of content have lower engagement than others, try to look for patterns as to why that may be, and repurpose types of content your audience tends to engage more with.
3: Conversions
The end goal of all content, and marketing in general, is to increase conversions. If your users are just consuming your content but not converting, then something needs to change.
Remember conversions might not just refer to a purchase. For example, a conversion of an eBook might be download where you now have the user's data to begin a more personalized marketing journey. Another possible conversion is a Newsletter subscription, a portal registration, or a contact form submission.
For some of your content, your goal may just be to increase brand awareness, increase domain authority, etc. Not every piece of content must be sales focused.
4: SEO Performance
The best way to know if your blog content is working is by measuring your SEO performance. At the beginning of your strategy, make sure to know your average ranking position, where you rank for certain keywords, your domain authority, how many web visitors come from organic search, etc.
Now, SEO is a long process, so don't expect massive changes over night. It can take years to see a significant change in SEO performance depending on your business, but once you begin ranking highly in SERPs, you will be driving lots of organic traffic to your business every month with no/minimal cost to you. Moreover, putting e.g. your blog on another domain to build backlinks might give you more SEO-juice than adding the content portal to your main URL.
Improving SEO performance is super important as a number one organic result is 10x more likely to receive a click than the site ranked 10th. And in that top 10, moving up just one spot can improve you CTR by 30.8%.
Imagine improving your ranking for your target keywords from 10th to 1st and receiving 10 times the number of organic traffic to your website. This results in more leads, and ultimately more conversions.
Conclusion
Content is a key part of businesses marketing strategy in 2022, whether they sell cleaning products to local people or software to millions across the globe.
It's a great way to connect with your existing users and attract your target audience in a helpful, non-intrusive way. Content serves a number of Marketing purposes: From conveying knowledge and demonstrating a company's capability to improving organic SEO rankings and driving conversions on your web shop.
If you want help developing a content marketing strategy, get in touch with our experts!
Do you want to share this article?
0 Comments
Write Comment
Do you wish to comment on this article? Cool! Please register for it an we promise not to spam. Please be respectful when commenting on article. Thank you!