Opt-in Email List Building Explained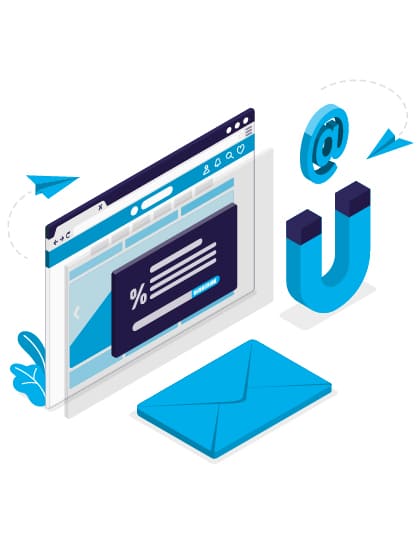 Marketing Automation
Email List Building: How to Generate as Many Opt-ins as possible
As inbound marketers, we know that the days of buying a lead list, loading contacts into our CRM, and sending emails are over. However, the concept of building a complete opt-in database from scratch can be a daunting and time-consuming task.
This raises the question of how do you quickly scale and build your list of opt-in prospects to your database?
In this post, you will learn what opt-in email marketing is, what strategies you can use to grow your opt-in database, and which tools can help you do this. Let's get started! If you want to learn more about inbound marketing beforehand, read about it in this article.
What is Opt-In Email Marketing?
Opt-in email marketing is the process of sending marketing material to an email list of prospects who have specifically signed up to consume your content. You can send e-mail newsletters, promotional materials or start so-called nurturing e-mail campaigns
The phrase 'Opt-in' simply means that prospects or leads know you are adding them to your email list and agree to receive messages from you. It is the entry point at which your web visitors enter your digital marketing funnel.
Leverage Email Marketing
Do you know the conversion rates of your e-mail campaigns? No matter what this number is, I bet that you can boost it significantly through targeted email marketing.
With personalized emails you will not only reach new customers who enter your sales funnel, but you will also have the option of bringing customers back to your shop who have not bought from you for a long time. This can for instance be done through targeted discount campaigns or other attractive offers. Cross selling or upselling with existing customers also works wonderfully with the help of opt-in email marketing.
As soon as you have also generated the opt-in, you can track the users and use trigger-based automation accordingly. This means you generate messages based on the digital footprint of the user, sending them personalized content on a variety of channels. Personalized, triggered mailings are shown to have a 25% higher open rate and a 51% higher click through rate according to Experian.
We at Marketing Monkeys do not help only in the compilation of your Marketing Automation, but we also ensure that you get the most out of the traffic to your site.
To do this, we specifically optimize the conversion points on your side and thus increase your conversion rate, (the percentage of visitors who sign up for the newsletter, send an inquiry or even buy online in relation to all visitors).
Conversion Rate Optimization (CRO) is one of the most effective online marketing tools and offers some of the highest returns on marketing investment. Please also read our article on how to improve your SEO ranking.
GPDR-compliant Double opt-in process
The new GDPR policies and the consequent tightening of advertising laws have increased awareness about users having to give their consent for Digital Marketing measures.
With the double opt-in process, users not only have to click a box to confirm that they would like to receive messages from you in the future - they also have to confirm this by clicking a link in a subsequent email. Of all welcome emails, 79% are double opt-ins, meaning that it can be proven beyond any doubt that the e-mail owner is also the subscriber. Otherwise, it could happen that someone else has given you the opt-in. Thus, as the advertiser, you cannot meet the burden of proof.
However, initial concerns of many online companies, have not been justified that this procedure could damage the power of the email marketing by limiting the number of users in a database.
Yet, what is important when building an email list is the quality of the leads over the quantity of them. The double opt-in process generates high-quality leads who are actually interested in you and your content and who did not end up in your mailing list by chance. This means you will have higher conversions and better brand recognition with your audience.
Double opt-out
Similar to the double opt-in, with the double opt-out procedure your users also have to confirm that they have unsubscribed from your mailing list. It is not enough to click the unsubscribe link in your newsletter; this must also be confirmed by clicking a link in a subsequent email. This is to prevent users from accidentally unsubscribing from your mailing list.
But be careful: If the customer wants to unsubscribe from the advertiser's entire distribution list, the email asking for confirmation could lead to a warning. The double-op t-out process is already a legal grey area.
Now that we have a better understanding of what opt-in email marketing is, let's take a look at how to build an opt -in email list.
How To Build an Opt-In Email List: 6 Ways to Be Successful
attract prospects with valuable content
ask people to register
offer gated content
position yourself as an expert
use your other email lists
suggest customers to log in during the checkout process
1. Attract prospects with valuable content.
The most important part of the growth of your database is through the creation of original and valuable content in accordance with your Buyer Personas. Let's explore how you can leverage content creation and various marketing channels to grow your database of opt-in prospects.
Premium content offerings By development of top-of-the-funnel premium Content offers such as: industry reports, e-books and guides, you can attract new subscribers to your database effectively. If you want the submission of an e-mail subscription to be voluntary, you can offer this premium content for download without any conditions (see below: Gated content). Make sure, however, that the login options are easily accessible for the user and that the forms are not too cluttered (few input fields).
Blog content
Blogging is another great way to grow your marketing subscriber list. By consistently creating blog content that is relevant to your buyer persona, you establish yourself as an expert in your industry who offers the community added value (for free). Those interested in learning more and staying up to date on new industry trends and best practices will sign up for your blog. Signing up to the blog can be a nice way to not call it a "newsletter subscription" which can be kind of negatively connoted.
Social media content
By establishing a corporate presence on social media platforms that your prospects spend their time on, you can effectively turn interested strangers into prospects. You can use different types of content such as slideshares, videos, infographics, blog posts and even premium content to attract new visitors to your website and then lead them into your Marketing Funnel by means of an opt-in subscription.
2. Ask people to subscribe to you
By promising to deliver relevant industry news, promotions, discounts, and freebies, you can get visitors to choose your newsletter.
When asking prospects for their demographics and email address, it is important to put forms in prominent places on your website, such as: on your homepage, blog page, or in the header or footer of your website.
By adding social-proof terms such as "10,000 subscribers" to your forms, you also increase the likelihood that people will sign up for your database.
Not such a good idea is to use a pop-up that immediately shows on your page when a user lands on it. If you would you like to work with pop-ups, it is advisable to have these appear only after a user has already spent some time on your site and had the chance judge your page. Otherwise, they may bounce straight away, damage your bounce rate and conversion rate due to overusing pop-ups.
Using pop-ups to gain email subscribers converts 1,375% better than a traditional form. Intelligent automation software like Automation Monkey has such features to bounce Prevention and the intelligent display of pop-ups and sliders.
3. Provide gated Content offering
Another popular method is "gating" premium content such as industry e-books, reports, and customer case studies.
Gated Content means that a user has to enter their e-mail address via a form in order to receive content. This is a very effective way to grow your database, especially if you offer premium content.
4. Position yourself as an expert
People are more likely to subscribe to your email if they think you are an expert in your industry.
If you are active on social media on your topic, write guest posts for other topic-related websites and publish valuable content of your own and users will be much more inclined to subscribe to your newsletter.
It can also help here if, for example, you run your blog under the name of the company owner and use it to link to your company website. This is how you build up an expert status, boost your personal brand and generate backlinks for your SEO at the same time.
5. Use your other email lists
If you have already set up an e-mail list in another area, you can use this to advertise your new list. If you expand your portfolio or start in another niche, your previous subscribers may also be interested.
We often notice in practice that our clients and partners email data of customers and other touchpoints are not synchronized with their email marketing software. Thus, historic data from sales contacts in the CRM, competitions, and the online store, have not been added to the email marketing list.
In case of doubts regarding data protection laws, you can use the following rule of thumb: As soon as a business relationship exists, i.e. the user has already bought something from you, you can use the data for advertising purposes in regards to this brand, product portfolio or market. The recipient must simply be able to unsubscribe from the recipient list at any given time.
In older contact lists, make sure you use email verification to remove any spam traps or addresses that could damage your sender reputation. To learn more about email verification or get our support in doing it, please contact us here.
6. Offer incentives during checkout
When you run an ecommerce store, it may seem difficult to get email subscribers at first.
But it doesn't have to be. For example, you can insert boxes in several places that your customers can click during the checkout process and which offer them to subscribe to your newsletter list.
If people are already filling out a form, anyway, adding a little checkbox to your email newsletter is a great way to build your list.
However, you should generally think about whether you want to obtain opt-in consent for commercial transactions at all. Order confirmation, satisfaction survey and subsequent re-sell promotions by e-mail are ideal opportunities to enter a dialogue with customers without praying on them. As soon as the customer buys from you, you can also process them on a wide variety of channels with advertising messages. As above mentioned, here you would still be GDPR-compliant, as long as they can unsubscribe at any time.
Why Buying Email Lists Is Not A Good Idea
Building an email list can be a tedious process, and it seems tempting to just buy in your first few subscribers with ease. As you will find out later, however, it is important to keep your own e-mail list free of irrelevant contacts and buying such contacts is anything but recommendable.
So, what do you start with? You can start with the addresses from your customer base. Of course, as mentioned, only with customers who also buy from you (regularly). Don't use age-old address lists without full names and gender information. Here, as already mentioned, you run the risk that you will reap a lot of unsubscribes and bounces. In the worst case, all of your emails will end up in the SPAM folder at the recipients as a result of that approach.
According to a study, having just 1% of "bad" (unverified) emails can reduce your deliverability by 10%. This damage in deliverability then impacts your open rate, click through rate, and conversion rate.
Either way, what you need to start your email marketing list is email marketing software. Let's take a look at some of your options.
CMS tools vs. Automation Software
Email tools that you can connect directly as a plugin to your CMS system such as WordPress or Joomla, have one decisive disadvantage - they are hardly customizable and therefore hardly suitable for companies that want to do email marketing professionally.
WordPress newsletters with newsletter tools like Mailchimp can be a good option if you are less technically savvy or if you only have a few contacts on your email list. Since these tools are cloud-based, you do not have the option of running the software on your server and therefore fewer rights or adaptation options.
If you want to be successful with your email marketing, you have to guarantee the interaction of different components as well as ensure that each component corresponds exactly to the needs of your online shop. Being able to integrate all Digital Touchpoints on one Automation Platform becomes key in successfully automating not only your Newslettering but also prior and subsequent communicative procedures.
Complex All-in-One solutions offer the benefit of integrating several platforms, channels, and touchpoints in one system. However, none of them can really be customized to meet your specific needs.
We at Marketing Monkeys use Automation Monkey for that particular reason. Our own automation software was built by us, to be able to operate email marketing flexibly, automatically, and fully customizable.
With Automation Monkey we play browser notifications as well as sliders and intelligent forms on your website and decide together when it makes sense to incorporate bounce prevention. In this case, we display pop-ups or slider just then, when we realize that a user will bounce soon.
Opt-in Email Marketing: Best practices
There are a few best practices to follow when building your database to help you scale your list quickly while avoiding opt-outs and stuffing your database with useless contacts.
Use short forms.
When asking prospects for data, keep the form as simple as possible.
Do your best to reduce the forms to the bare minimum of information such as: first name, last name, and email address. When designing forms for your website, less is more.
Use progressive profiling.
Many marketing automation programs have
functionalities
that marketers can use to gradually expand their knowledge of a prospect over time.
This means that when a prospect fills out a form on your website for the first time, they will be asked questions such as: first name, last name and email address. The next time they come to your website, they'll be asked for their company name, job title, and phone number. So the automation software recognizes the user and only asks for details which are not yet known.
In this way, the marketer can expand his knowledge of the potential customer over time without asking too many questions at once, which is a reason for abandonment for many users. With Automation Monkey, this function is also included as standard.
Develop a Subscription Center
People want to manage their communication preferences with your brand. In fact,
60%
of people say they prefer to tell companies exactly what type of emails they are interested in. To do this, use a page known as a subscription center, or preference center. This page allows prospects to manage the frequency, content and means of communication with you.
This subscription center will help to minimize the number of unsubscriptions a great deal, as interested parties have the option of unsubscribing from certain e-mails or messages instead of being completely unsubscribed from all communicative measures.
By creating relevant and valuable content, personalized and differentiated for different buyer personas, you can build up your database of opt-in prospects quickly and inexpensively.
Sender Score and Sender Reputation
An important task in email marketing is to prevent the emails you send, from ending up in the spam folder of your subscribers. The two things that make a decisive difference are the so-called
sender score and sender reputation.
Sender reputation is about both content and domain reputation. How do subscribers handle your emails? How much time do they spend on your time, etc. The deliverability of your emails suffers from a bad reputation, which is particularly fatal in case of order confirmations or other important emails that are immediately expected by the recipient.
The Sender Score is determined by the number of invalid contacts in your email list and the number of users who mark your emails as spam.
In order to improve these two components, you should pay attention to a clean, technical implementation of your newsletter tool, generate relevant content and strictly rely on a double opt-in procedure. You should also regularly clean up and verify your e-mail list and delete invalid contacts. Send us an email to info@marketingmonkeys.ch if you need support with this. We are happy to help!
Lead nurturing
Lead nurturing describes the structured process of automated email marketing for customer acquisition and development. Your users are divided into qualified and less qualified leads. Depending on their status, they are supplied by pre-determined emails that provide them with exactly the information they need at the stage of the customer journey they are currently at.
This includes, for example, a series of emails for new customers in which you work with welcome discounts to guide users into the sales funnel. If a customer has developed into a qualified lead through certain, also pre-defined actions and thus shows potential to become a buyer, he can either be forwarded directly to sales or further encouraged in his purchase decision by more detailed information by email.
E-Mail List Building: The Most Important Lessons
One of the most important things to consider when it comes to growing your email list is spreading your content through various channels like social media, blogging, and your website. These sales channels allow you to capture email interests in many different areas.
The more potential customers become aware of your company - and thus your products or services - the more they will buy from you. The old marketing rule applies here: every customer must be contacted at least 7 times before the purchase is made.
You should work on List Building with tools and instruments for your determined objectives - regardless of whether it is pop-ups, lead nurturing programs or gated content. For this we recommend using state-of-the-art Automation Software such as Automation Monkey
We've mentioned which best practices you can work with to simplify your opt-in process. By implementing these processes, you will build an opt-in database of potential customers who are genuinely interested in your business and who will bring you a decent return on investment.
Do you want to share this article?
0 Comments
Write Comment
Do you wish to comment on this article? Cool! Please register for it an we promise not to spam. Please be respectful when commenting on article. Thank you!