Retargeting Campaigns in Marketing Automation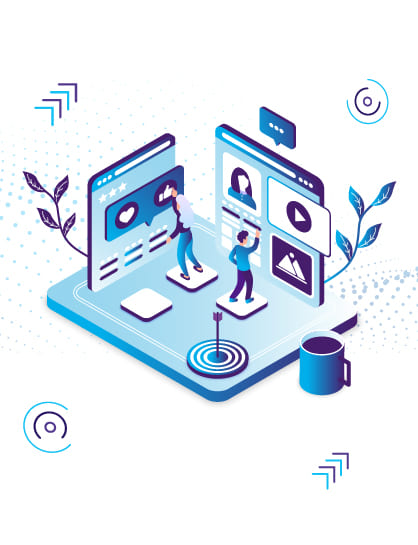 Marketing Automation
How to Create Effective Retargeting Campaigns
Picture this: your customer visits your website, browses your products/services, and adds one to their cart. They're well on the way to becoming a paying customer, but then something happens: The prospects leave your site.
But this doesn't have to mean it's the end of that customer's journey. After all, the rule of seven is a famous saying in the marketing world, that the average customer must be exposed to your brand seven times before making a purchase.
Retargeting campaigns are one of the best ways to close a lead that came so close to becoming a paying customer. Especially when automating your Digital Marketing, retargeting campaigns become important part of your Customer Journeys and help you to get users to purchase (again).
What is Retargeting?
You can drive all the traffic you need to your site, but if the majority of it does not convert (in other words, you have a low conversion rate), then all of your great marketing efforts are nearly useless.
And in fact, 97% of first-time web visitors will leave your website without buying anything.
Retargeting campaigns can help you improve your overall conversion rate by asking these visitors to come back for another look at your products.
These are super effective as they allow you to target your ads to visitors who have already visited your category pages, product pages, or shown any other sign of buyers' intent.
In fact, retargeting ads have higher CTRs and higher conversion rates than normal display ads (according to Spiralytics)
These ads will follow your target audience around the web, to help keep your brand top of mind.
How Retargeting Ads Work
Have you ever experienced retargeting ads yourself? Maybe you are browsing a website for a pair of shoes, and then suddenly an ad for those shoes starts appearing everywhere you look online.
Why not use this principle for your own business?
Retargeting ads work by utilizing "cookies" that are stored on a customer's browser. Cookies are simply small pieces of data that are able to tell other websites what web pages that user has visited.
Marketers can utilize these cookies by creating retargeting ads through Google Ads, Facebook Ads, LinkedIn Ads, Email, or other sources of communication. To set up these retargeting ads, simply head to the platforms ad manager and follow the process laid out.
Retargeting campaigns can help to increase conversion rates by up to 70%
This is how retargeting ads work in a simple 3 step process:
How to Set up Retargeting Campaigns
Automation Monkey, our very own Automation Software, makes setting up and measuring retargeting campaigns easy. From our focus on data-driven marketing, retargeting campaigns are just a small part of our overall highly targeted marketing philosophy.
The first and arguably most important place to set up retargeting campaigns is Google. Around 3.8 million searches happen on Google every minute, and chances are if your potential lead is browsing your website, they're going to go off and browse others also.
With Google remarketing, you can set up standard, dynamic, video remarketing, search ads, and customer lists remarketing campaigns.
The next best place for remarketing after Google is Facebook. When you add up Facebook users and Instagram (which Facebook owns) users, you get a potential reach of close to 3.5 billion people. Chances are, that person that just browsed your website, will be browsing on Facebook or Instagram later that night.
Pose Audio have a really good example of a great remarketing ad on Facebook:
This ad acts as a reminder for the user to complete their purchase, without being too pushy. It is encouraging them rather than forcing them, which is important to get across when writing the copy for your ads.
Amazingly with Automation Monkey you can connect all your social accounts to one automation suite and track user traffic across different channels. You can learn more about our Social Media Integrations here
Retargeting Best Practices
When it comes to creating retargeting ads, there are some things that you want to make sure you are doing to maximize your click through rate. It's no good just putting out a generic ad without the proper research and strategy behind it and expect it to perform well.
Here are some of the best practices for setting up retargeting ads.
1. Where are Your Customers Most Likely to buy?
Checking your analytics can help show you most importantly what devices your customers are using.
Open Google Analytics (if you need help setting up your Google Analytics account, read our guide here). Go to Audience -> Mobile -> Overview. This dashboard will appear:
As you can see, most of this website's traffic comes from mobile. However, when you scroll further to the right:
You can see that the conversion rate on desktop is nearly double the conversion rate via mobile.
Yes, mobile still brings in over half of the transactions, but considering the proportion of traffic, it seems that users on desktop are more likely to buy than users on mobile.
From this data, we can conclude that setting up our retargeting ads for desktop only will have a greater chance of increasing conversion rate for this campaign.
2. Segment Your Audience
Even though all these leads that you wish to retarget have visited your website, you don't want to treat them all the same.
The way you want to nurture someone that's visited your website 5 times is different to someone that's visited just once.
The two best ways to segment your audience is based on on-page behavior and frequency of visits.
On-page behavior is based on how long people spend on your web pages and the type of pages they visit. Someone that spends 5 minutes on your site and browsed through product details is much more likely to become a paying customer than someone who visited your website for 30 seconds and only checked out your careers page.
Frequency of visits is important as it is a key factor as to how interested someone is in your brand. Generally speaking, the more someone visits your website, the more likely they are to become a customer.
The types of ads you will send to each segment will be different. Also, here, Automation Monkey helps you to play out the right ads to the right audience. With advanced profiling, an option of our Automation software, you will be able to use our scoring and tagging mechanisms to distribute ads much more precisely.
3. Give Them a Reason to Return to Your Site
You can't just run a general ad and expect these people to come back. Chances are that your website was just one of many they checked out whilst researching about a product.
According to Expedia, the average consumer visits 38 websites before booking. Whilst maybe not as dramatic, this behavior still exists in every industry. So, how do you make your company stand out from the others that are fighting for this one person's purchase?
Your retargeting ads must give them a reason to choose you. J. Crew have a great example of a retargeting ad that uses a discount to create urgency:
These customers will be enticed to go back to J. Crew and complete their purchase in fear of missing out on the offer. Another great example of this is Expedia:
Notice how the copy in this ad creates urgency. If this web visitor has visited 38 other holiday package websites, this ad gives them a reason to choose Expedia over the others: by making the most of their last-minute deals.
Aside from discounts, you may choose to explain how you have limited availability left of a certain product. This can ignite FOMO (fear of missing out) and encourage the target to shop now.
Creating urgency through your retargeting communication is a great way to get customers to purchase.
This part is all about getting creative with your messaging. Whatever you choose, make sure your target audience has a reason to return to your website.
4. Up and Cross-Sell to Existing Customers
So far, this entire article has been about using retargeting to convert leads before they slip out of your sales funnel. But what about those that have already become paying customers?
Well, in any customer journey map, becoming a customer shouldn't be your end goal. You want to make sure your customers become repeat customers and loyal customers that begin referring others to your products as this approach is much cheaper and more sustainable. Winning a new client can be up to 7 times more expensive than retaining current clients through multiple advertising costs.
So, it's just as important to use these ads to target existing customers as it is to target potential first-time buyers.
For example, look at this very clever cross-sell from Best Buy:
If you've just bought a brand-new iPhone, chances are you won't be in the market for another phone anytime soon. But you probably will be in the market for a phone case.
This retargeting ad is the perfect cross-sell: it gives the customer a product they will likely want based on their previous purchase, and their price match guarantee lets the customer know that this will be the cheapest price available.
This will entice the customer to buy another product from Best Buy, and further reinforce their relationship with the brand.
Key Takeaways
Obviously, customer data is a huge part of marketing online nowadays. Retargeting ads allows you to use this data (in the form of cookies) to create highly targeted ads for customers based on the products they've already shown an interest in.
At Marketing Monkeys, we are specialists in data driven marketing. Get in touch today for a consultation on how we can effectively set up retargeting campaigns in Automation Monkey for your business.
Do you want to share this article?
0 Comments
Write Comment
Do you wish to comment on this article? Cool! Please register for it an we promise not to spam. Please be respectful when commenting on article. Thank you!