UX Testing Explained: Pre-Launch Website Testing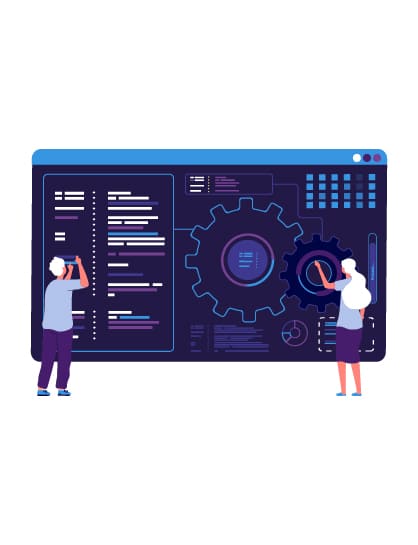 Web Development
The Complete Guide to UX Testing
Building a functional website or application has been an essential part of business success for the past 10+ years. However, just having a website or app isn't enough anymore. If your online presence isn't driving conversions or being engaged with, then chances are your User Experience (UX) needs improving.
Despite having the potential to raise conversion rates by as much as 400%, only 55% of companies are currently conducting any type of UX testing.
At Marketing Monkeys, a team of tech experts work with clients through every stage of web development, from ideation all the way to a fully optimized, working custom-built site. Our aim is it to provide turn-key solutions that generate new business opportunities across your digital touchpoints and to smoothly integrate them into your digital customer journey.
Thus, we have stopped developing stand-alone websites a while ago as this is seldomly a sustainable business approach. What it takes is an eye-to-eye partnership with clients in which both parties pull on the same string. Those customers who realize that it takes much more than just building a nice-looking website to generate Online leads and business, are the ones we are looking for to develop into a sustainable digital partnership. After a professional web relaunch, you have only already developed one (perhaps the most important) digital touchpoint that needs to be integrated in your overall Inbound Marketing strategy. Now the game really starts by blogging to increase content and drive organic traffic, positioning and setting your SEA efforts right, driving conversions and engaging users across their customer journey.
Coming back to the subject: One of the most important stages in our web development process is the UX testing phase, and in this article, I'm going to explain what UX testing is, why it's so important, and how you can achieve it.
What is UX Testing
UX stands for user experience, and simply refers to the experience your users have when interacting with your website or app. It can be a fairly abstract concept, but the key thing to know is that when designing a website or web application, you need to design it with your users at the center of the design process, not yourself.
As famous designer Frank Chimero said: "people ignore design that ignores people". In other words, it is imperative that your website, your app, and all other digital presences are designed for the users. The only way to test for the users of your product, is to know exactly what UX aspects they like, and which ones they don't like.
What makes a good user experience is somewhat subjective, but there are also general preferences that we all have when browsing online. Generally speaking, the simpler and more understandable you can keep your design, and the quicker you can get your user to the information they need, the better the user experience will be. For example, there is a famous web design rule called the three-click rule, which states any user on your website or app should be able to find any piece of information they want in under three clicks. If it takes them more than three clicks, the user will become frustrated with their journey.
However, unofficial rules such as the three-click rule are, like most user experience design, subjective. The Nielsen group claims "the number of clicks needed to complete the task will depend not only on the design, but also on the task complexity — so an absolute number, applicable for all tasks, is not possible."
As mentioned, you need to have a human-centered approach when it comes to web and app development, and the humans you need to focus on are your target customers. The way a 50-year-old woman working a full-time job from a big city likes to navigate a website is going to be different to a teenager/young adult just out of college. A great UX design means it is easy to navigate and use for that company's target user. This means the UX design of an investment banking website is likely to be different to that of an ecommerce website focused on millennials.
This is where UX testing (otherwise known as usability testing) comes in. UX testing gets your websites, applications, and prototypes, in front of your target users, giving you valuable feedback on the usability and any issues or defects that you will need to fix. This can involve users answering a set of written or spoken questions about their experience using either a live site or a prototype, or just watching how a user interacts with your site without you asking any questions.
By testing your website or application in front of your target audience, you get valuable data around what your target user likes to be included, and what they do not.
How to Define Your Buyer Persona
As using your target user is super important when it comes to UX testing, it's important you know how to define them. Most companies will have more than one buyer persona, as they'll have multiple types of people interested in what their business has to offer.
Using buyer personas can help to make websites between 2 - 5 times more effective and easier to use, and helps you beyond the user experience journey, by creating personalized marketing campaigns.
Here are some tips to help you define your target market / buyer personas:
Analyze your Current Customer Base: Look through your customer list and your database. What do the people on this list have in common? What's the split in ages, gender, job titles, etc.

Analyzing this data could provide you with the knowledge of who the kind of people are that tend to buy or be interested in your products or services, and therefore make up your buyer personas.
Look at Your Products or Services: You'll often be able to tell who your target market is just by looking at what your business offers. As a SaaS company, it's quite clear that our buyer personas are going to be individuals high up in their job, I.e. either a business owner or a marketing director.
For an e-commerce site selling sustainable clothing, they're likely to be looking at adults that are conscious about the environment and like to take steps to be more eco-friendly.
Use Google Analytics: Google Analytics has a hub of information regarding the people visiting your site. It can tell you where they are coming from, their age, their gender, what content they are engaging with, etc. This can all be useful data to help define your target market.
Conduct Surveys and Interviews: Your buyer personas are more than just the broad data shown in analytics such as age and gender. It's about how these people like to spend their day, what level of education they have, what their job title is, what are their biggest pain points, etc.
This in-depth data can be gathered by talking to your database and your salesforce. To do this quickly and affordably, send a quick survey out to your customers, sales staff and people that have opted-in to your email marketing, and ask them questions like the ones listed above. If you have a bit more of a budget, you may be able to complete one-to-one interviews that help you go deeper into some of the answers and get an even clearer understanding of your target audience.
Important is the right blend of measures. Only relying e.g. on Google Analytics data, would not provide a sufficiently broad picture of your different Buyer Personas.
The different Types of Usability Testing
Once you have your buyer personas figured out, it's time to look deeper into UX testing. There are multiple different types of usability testing procedures, all serving a different type of need, question or issue:
Moderated Usability Testing: A moderated Usability Testing test is when a user completes set tasks, whilst being observed by a moderator. This moderator will ask them questions, observe, and guide the user as to what parts of your site or app you want them to use. The moderator should not influence any of the users' decisions or thoughts but should help to dig deeper into the reasoning behind their pain points.
Unmoderated Usability Testing: In contrast, an unmoderated test is where a user completes preset tasks on their own, without any real time observation or guidance. This way of gathering usability data is cheap and easy to run.
Session Recording: This involves a user recording their screen as they interact with your website / app. This helps businesses to see how users interact, or would like to interact with their content, and pinpoint any issues that these users have whilst navigating through your product. These can be either moderated or unmoderated.
Card Sort: A card sort activity is extremely useful for developers to see how their users would organize menus, products, services, etc. in the most logical way. These can be done either digitally or physically and can be either moderated or unmoderated.
A/B Testing: A/B testing is a simple way to discover the best results from differing designs. These are usually used to test small changes such as different colored/styles call-to-action buttons, or different menu navigation layouts. These results generally need a large number of users to be significantly different and result in a clear winner. So, it is one of the preferred measures for platforms and companies with a large user basis.
Mouse Tracking: These methods are used to see what piece of content first grabs the user's attention. Some software such as Hotjar or others, allows you to measure what users click on first, they allow you to see a heat map showing what parts of the webpage people look at the most, what parts get ignored, and how factors such as size, color, etc. affect these metrics.
The type of UX testing you use depends on several factors. First of all, moderated tests are more expensive and time consuming than unmoderated ones as you need to pay for a moderator to be present, whereas in an unmoderated test, the user can complete it on their own.
Different tasks are also useful depending on what you are looking for. For example, if you're looking for the best way to sort your navigation menu, a card sort might make most sense, whereas if you want to test a complete user journey from landing on a web page to purchase, you will probably want to use a session recording.
Our expert team of web developers ensure that your website or app is thoroughly tested in front of your target audience and take all feedback into consideration for the final design.
The Importance of UX Testing
UX testing is one of, if not the most important stage of a web development process. After all, you can design a website that looks visually appealing, and you and your in-house team like the look of, but if it's frustrating to use for the user and unresponsive, it doesn't matter how pretty it looks.
88% of shoppers say that having a bad user experience would result in them never visiting that website ever again. That's nearly 90% of your potential customers lost forever due to having a bad user experience.
UX testing gives you the ability to put concepts and prototypes to the test and see how your target audience interacts with them. This is important for many different reasons:
Reveal Hidden Problems: User testing helps to reveal problems in the design of your website or app, so that you can fix it as soon as possible. Testing should be done after the development is done, but before the concept has gone live. You can also test during the development stage by using card sorting activities or surveys.
Learn About Target User: Using UX testing means you learn the behavior and preferences of those that will be the kind of people browsing your product. This allows you to make a website specifically designed for your target customer. Surveys in the beta testing phase might reveal inconsistent and confusing findings regarding UX of certain parts of your new website. With A/B testing you can test those things on the live page and see what works best with the majority of your real users.
Discover More Opportunities: As part of your usability testing efforts, you will very likely get new ideas from the responses to your tests. These can give you new areas to explore that you perhaps had never thought of before and help to make improvements to your existing concept.
Saves Time and Money: Unfortunately, UX testing is often the part of the web development process that gets overlooked. This is usually because of time or cost restraints, with smaller companies wanting to get something live quickly. However, not investing the resources into proper usability testing can actually cost you more time and money in the long run due to technical errors that you never picked up, and overall a lower conversion rate due to you not fully understanding your buyer persona.
In fact, according to studies, fixing an issue after development is up to 100 times more expensive than if it were done before development. This is especially the case if you opt for the wrong web agency first and then change to a new partner. The new agency will have to read into the software code of the old partner to debug and optimize, which makes things even more expensive and time-consuming.
Improves Conversion Rates: By using UX testing, you can see exactly why your users are not converting. It may be because the checkout page is too many clicks away from the homepage, because the product images are too pixelated, fonts are too small in Mobile or because the navigation menu is difficult to navigate.
In our daily business at Marketing Monkeys, we often hear from clients: We worked with an SEO agency and now we got a hell of a lot of traffic to our page. However, you then need to convert that traffic into subscribers, buyers or requests. A great User Experience is what gets them to act or convert. So to reach your final goal, you need to consider a large number of aspects.
Less Support Queries: When conducting usability testing, you'll notice a lot of questions that users have whilst navigation your website or app. Usually, these would result in messages, emails, or phone calls to the customer service department. However, if you can answer these questions through the customer journey, not only do you reduce the costs for contact support, but you also provide the user with a much more seamless experience.
We would like to add our personal interpretation to customer centricity at this stage of the article. In our opinion, UX should be fantastic and make it extremely easy for clients to find the desired information. However, that does not mean you should hide your telephone number, email and other traditional contact methods to shortcut on customer service. UX in a broader perspective is all about serving customers/users the way they want it. Some will want to give you a call while others will want to research online first. Just follow your customers' preferences and regularly learn how they've evolved over time.
UX Testing vs A/B Testing
I mentioned above that A/B testing is a
type
of usability testing that you can use. As it is arguably the easiest and quickest form of UX testing to complete, it is widely used by companies to get a broad understanding of what works best.
Whilst using A/B Testing is good, it shouldn't be your only form of usability testing that you use. If you're testing two different versions of a product page, you may find that version A outperforms version B by 25%, but this is just surface level information. There is no additional information to suggest how well-designed version A is.
The only way to get this deeper understanding is by testing with real users that match your buyer personas. You can use A/B testing as part of your research, but don't rely on it solely for your entire UX testing strategy as you could still be missing out on other opportunities to improve.
The 3 Phases of UX Testing
As already mentioned, there are multiple ways that you can test your UX or User Interface. Before starting with any of these methods, you need to think about which methods are going to be right for you.
Start by asking yourself:
What do I want to find out from this testing?
How much time and money do I have to invest?
What type of audience am I looking to test?
These questions will help you to choose how to set up your correct testing strategy. Without the correct strategy, you can miss out key parts, or end up wasting time and money on results that make no difference to your current user experience.
Once you've answered these questions, it's time to begin testing. However, the testing process will depend on what stage of the web or app development process you are at. Are you in the very beginning, pre-launch phase, or the 'live page' phase?
Design is an iterative process, meaning your design will constantly need to be repeated, tweaked, and improved through the whole process, not just at one point. Especially since your business and target clients develop over time as well.
Phase 1: Beginning
The 'beginning' phase refers to the very first steps of your design process. This could even be as early as before you've developed any kind of digital mockup.
In this phase, you can use different ideas, or hand-drawn prototypes to test which parts of your ideas will work best. You can use card sorts to see which way to lay out your navigation bar and set different tasks and questions to see which way to best lay out your whole design.
As mentioned, the earlier on you can get feedback from your users, the more time and money you will save. Even if you don't have a large budget, using a form of cheap testing on a handful of target users is still better than completing no testing at all.
Getting feedback from your buyer personas before you even begin designing will help you implement the correct features and interactions from the beginning, and hopefully have less things to change in future testing periods.
To test in the beginning phase of your development, you want to ensure you can get as much feedback as possible on the majority if not all of your web pages. Make sure you have your buyer personas laid out as mentioned at the beginning of this article and know exactly what tasks you are going to set the participants.
As you are conducting a test without a digital prototype, the tasks here are likely to be card sorts and surveys. These tasks will help you gather data around what your target users would like to see, as well as explore their frequent pain points when it comes to using services like yours.
Phase 2: Prototype
The prototype phase is arguably the most popular phase when people think of UX testing. Here, you have a digital prototype designed using feedback from the beginning stage, and that your team are all happy with.
Before you turn your digital prototype into your final product, you want to test that 1. It has no bugs, and 2. That it provides everything your users want. Contrary to popular belief, this doesn't have to be an expensive process. It has been shown that just five participants will uncover 85% of the usability problems in your design, so rather than testing with hundreds of your target audience, you may be better off testing with a handful, fixing the issues, then testing with a different bunch of users, and repeating this process until you weed out all of the issues.
In the prototype stage, you can use many different types of usability testing. You can use either moderated or unmoderated testing, session recordings, surveys, card sorts, guerilla testing, or a mix of multiple different testing methods.
As mentioned above, you should perform multiple tests in the prototype stage with a range of different participants. Rather than doing one mass test with hundreds of participants, do multiple smaller tests with 5 - 10 participants each. After you've got feedback from that group, make the adjustments and test on the next group, and so on. This will help you weed out issues until eventually your prototype is ready to go live.
Phase 3: Live-Page
Finally, you should be continually optimizing your website after it has gone live. This applies to the pre-launch beta version as well as the final live page. Bear in mind that the most essential issues should have been "removed" in the pre-programming stage (Phase 2), as additional programming hours for changes will incur high costs.
No website is ever 'perfect' and just able to be left alone. There are always features and interactions that can be improved to drive conversion rates and improve User Experience.
Once your test has gone live, a lot of A/B testing is good for seeing what kind of copy, colors, and other features perform best in terms of metrics such as click rate, bounce rate, etc. Also, using software such as HotJar can help give you real-time data of how users are interacting with your live site.
The key benchmarks and KPIs you'll be looking for once your site has gone live is time on site, bounce rate, and conversion rate, although these may differ depending on your business goals and for different types of web pages on your site.
Viewport Testing
In every phase of the UX testing process, it's important to test your digital product across all types of viewports (or devices). Especially when doing a custom design, that design is preferable done in a "Mobile-First" approach and then adapted to the other common 4 – 5 viewports (Tablet, Desktop, and different sizes of commonly used Mobile phones).
By looking at doing whatever website analytics you use for your business (such as Google Analytics), you should be able to see what device most of your users are visiting your site on. Mobile devices generate around 55% of web traffic worldwide, but the stats for your business could be extremely different. Check if the majority of your users visit on mobile, desktop, or tablet, and optimize your website with an according focus.
You then also want to run usability tests on all different device sizes, zoom factors and browsers to see what users will experience. For example, how easy is the menu to navigate on mobile vs desktop.
5 Steps to Completing a Usability Test
1. Choose What You Want to Test
Even for the same business, you may want to use different tests depending on the data you want to find out. For example, if you want to test the menu navigation you might use a card sort, whereas to test how a user reacts when first landing on a product page you might use either a moderated or unmoderated screen recording.
Generally, these are the types of testing methods that are best suited for different page elements:
On page content: Unmoderated, mouse tracking, surveys
Functionality: Session recording, moderated, unmoderated
Navigation: Card sort, screen recording, moderated, unmoderated
2. Decide on the Tasks
When conducting a usability test, you will give the user tasks to complete, and ask them questions along the way. For example, you might task them to try and find a specific product on your website and observe their interaction with different functions.
3. Know Your Buyer Personas
Every business should know their buyer personas anyway, but before you conduct any usability testing's, make sure you know exactly who your target audience is so you can test your service in front of the right people. Failing to do this step can mean inconsistent results that could actually do more harm than good.
4. Find Your Participants
There are multiple ways you can recruit participants to use in your usability testing. Firstly, you could use guerilla testing which involves asking anyone passing by, whether this be in an office, on the street, in a coffee shop, etc. This is the quickest, but the users you select are not going to be a complete representation of your target customer.
Another easy way to recruit users is to reach out to your existing customers. This way you get relevant users that match your buyer persona; however, they've likely visited your website multiple times before and therefore might give biased answers in comparison to target customers that have never seen your site before.
For a more rounded view, you can use online user testing services, such as UserTesting.com. These allow you to screen the participants so you can ensure they match your buyer persona. These services are only conducted remotely so will not be useful if you want to conduct in-person tests.
Finally, there are different agencies and market research companies that can help you gather a list of target customers, and deal with the UX testing for you. If you are getting your website made by a web development company, ask if they can conduct user testing on your behalf as part of the service.
The key to finding the right participants is to create the perfect screening process. Ask detailed questions to make sure your participants match up to your buyer personas completely. Don't just ask broad questions that anyone could guess, ask detailed questions that only your target user would be able to answer.
5. Analyze the Results
If your testing is being conducted by an external web/app development agency, they should take care of the analysis for you. However, if you are building your site or app in-house, you want to look at the results from your testing efforts.
See what issues are arising, and what improvements people are suggesting. You now have access to valuable data that can massively improve your user experience. All those insights should be used to issue a project plan for the introduction of the changes and future iterations.
Benchmarking Your UX Testing Process
UX benchmarking is the process of quantifying the improvements you've made through your usability testing process, to help prove to your team, stakeholders, and yourself the impact of the research you have completed.
You can benchmark your website or app against previous versions, against your competitors, or different iterations and versions of your digital product or prototype.
To conduct UX benchmarking, you need data. And you need to use the current data to set benchmarks of where the website or prototype currently sits with the users you've tested with so far. If you haven't tested yet, then set up a test with a handful of users which will act as your base like for your first test.
The first thing you need to do with UX benchmarking, is decide which area (or areas) you want to focus on. Some common examples are:
How long it takes users to reach the checkout page.
How easy users can navigate a redesigned homepage.
How quickly does it take for users to reach your contact us page.
For this example, let's say we are interested in measuring how long it takes users to reach the checkout page of our e-commerce site. Next, we need to know what metrics are going to show us an improvement in this area. Metrics can include:
Page views
Time to complete the task
Abandonment rate
Number of clicks
Task success rate
For our example, time to complete a task or number of clicks are the metrics that would be most useful for us in this case.
After we have the metrics confirmed, it's time to get studying. To get the participants we want, we will need to arrange a set of screener questions to make sure the participants match our target users. Here, you could ask users about their job role, their age, gender, if they ever shop for products or services like yours, etc. The more detailed you can be here, the more accurate the users will match to your buyer personas. For example, if you are after marketing directors and decision - makers, don't just ask them if they are a marketing director, ask them detailed questions about their role and education that only people in their job role would be able to answer.
When you have your users, you then need to confirm your script, or tasks that you want your users to complete. In our example, we would ask users to find one of our products and begin the checkout process.
The product we ask for will be specific and simple to complete, for example "find a pair of men's white shoes and add them to your cart". This mirrors a real-life interaction without giving the participants any guidance or tips on how to complete the task. It would also be a good idea to ask post survey questions such as "on a scale of 1 - 5 (1 being extremely easy, 5 being extremely hard) how easy did you find the process of finding the shoes and adding them to your cart?", as well as asking what the users would improve about the process. Quantitative data like this also gives you a good set of figures to compare as you improve your design.
This first study will act as your benchmark study. These are the figures from which you will compare the rest of your future studies. After each study, you'll want to improve your website based on the results, and then repeat the test using the exact same questions and a test group gathered from the exact same screening process.
After doing this a few times, you'll be able to see a difference in metrics and answers to post survey questions, to (hopefully) see an improvement in your UX design.
Competitive UX Benchmarking
An important part of your UX testing is to know how it performs in comparison to your competitors. After all, data in isolation is meaningless. If, in our example, it took the average user 1 minute to begin the checkout process, we have no idea if that is good or bad. We will only know this when we compare it to our competitors. If our competitors average 2 minutes to begin the checkout process, then we know our UX design is really effective, whereas if our competitors average 30 seconds, then our UX design needs some extra work.
Competitive UX Benchmarking allows you to compare your tests to your competitors. You can see exactly where you excel, and where you fall short in comparison to other websites and apps in your niche.
How We Conduct UX Testing at Marketing Monkeys
At Marketing Monkeys, we have an expert team of web developers that are constantly improving our website. Across various industries and use cases we have also gathered a large number of reference data which we use to compare our clients' performance to others. Our process from first initial thoughts to finished product is a long journey, but we use a specific way of working to make this process as streamlined and efficient as possible.
Step 1: Discuss & Draft Mock-Up
The first step of our web development process involves our team coming together to collaborate on ideas and discuss the direction we are looking to go in. This involves lots of research of both similar sites in the B2B SaaS space, as well as from our target users to understand what they like to be included before we begin on the prototype. All those ideas are summarized in writing and with some first visual sketches.
Step 2: Prototype
After we're all aligned on the same page, our tech experts go and create a prototype. This is a multi-person job and requires lots of collaboration from across the company to be inputting ideas until the design is at a place where we are happy with it. This will keep being designed until our whole team is happy with where it is at, which usually takes a long time.
In this step we also make sure to develop Mobile-first and to adapt design to all other viewports. Especially when pursuing the custom design pathway, this process can be quite lengthy and cost intense as it also involves issuing a "design bible" of your Digital CI/CD.
Step 3: Testing & Adjusting
After the prototype has been programmed, we begin our UX testing. We get participants that match our buyer personas by using a detailed screening method and create a testing strategy depending on what we want to test.
Once we have the feedback from the participants, our tech team begin making the necessary adjustments, and we test again, using the same screening method, and we keep repeating this process until we find no more issues. At this point, the website is now ready to be launched.
Step 4: Continuous Optimization
After our website has gone live, we continue to measure UX with A/B tests, and more UX testing strategies to ensure our website is being continually optimized.
Conclusion
Investing in the best user experience can make the difference with your business's online presence. In fact, on average every $1 invested in UX results in a return of
$100
, showing just how important a good user experience is in 2021.
Even if you are getting very little negative feedback from your users, you still need to invest resources into UX testing as 91% of unsatisfied customers simply leave your site without making a complaint. You may think your website is performing great as you're getting no complaints, whereas in reality the users are just leaving your site for good and go to browse with a competitor. It is a matter of perspective: Are you happy with e.g. 4% conversion rate or do you see more potential in the residual 96% who haven't converted.
If you need help ideating, planning, and executing a UX testing strategy, get in touch with one of our experts today who will be happy to help you.
Do you want to share this article?
0 Comments
Write Comment
Do you wish to comment on this article? Cool! Please register for it an we promise not to spam. Please be respectful when commenting on article. Thank you!